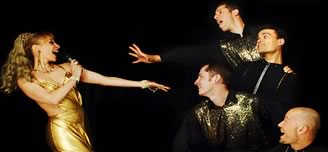 Our best offers
Special Offer at César Palace
Book cabaret César Palace on Idéal Cabaret and enjoy an exceptional offer! Oh! Cesar is a cabaret and music hall that has been well known in Paris for several decades, and it is one of the most appreciated for the quality and diversity of its shows: a mix of artists, comedians, singers, dancers...
For more than 50 years, Don Camilo has been a temple for laughter and for good cuisine. Everyone in France likes Serge Lama, Thierry le Luron, Pierre Perret...

From : 99.00 €
Montmartre, typical spirit with a range of different professional artists: imitators, illusionists, singers, guitarist, piano player, they will enchant you...

From : 63.00 €
Paris capital of Europe, making other cities throughout the world jealous… yes of course, but what would Paris be without its famous cabarets? The latest of those privileged places is starting to make a name for itself in Paris...

From : 75.00 €
Please take your seat, the night is about to begin! Since 1969, this typically Parisian café theater, located in Paris ......

From : 53.00 €
A ladleful of entertainment, a tablespoon of festive ambiance and a few grams of extravaganza mixed with a pinch of originality and a good dose of artistic and culinary talent...

From : 105.00 €